Report: Stefan Rother at the EU-Asia Dialogue Policy Panel on Migration
The Policy Panel on Migration was held on December 13, 2012 in Manila / The Philippines.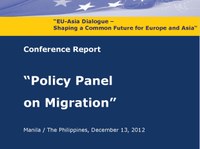 Altogether, 22 policymakers and researchers from the Delegation of the European Union to the Philippines, State Secretariat of The Republic of Indonesia, Commission on Filipinos Overseas, International Organization for Migration, Chief Minister of Delhi, Universiti Kebangsaan Malaysia, Université Catholique de Louvain, Scalabrini Migration Center, Federation of Free Workers, Philippine Migrants Rights Watch, University of Freiburg, GIZ, Chonbuk National University, De La Salle University and University of the Philippines Diliman participated in the event. Among the topics discussed were migration flows between Europe and Asia, migration policies in the European Union, on the ASEAN level, in various Asian countries and the impact of civil society organizations.
Policy Panel Report:
"(...) The last presentation of the session on Civil Society Organisations – Partners in Migration? was given by Dr. Stefan Rother, Research Fellow, Arnold Bergstraesser Institute for Socio-Cultural Research, University of Freiburg. Dr. Rother started his presentation by addressing problems of civil society organizations. Among others, these are legitimacy, internal democratic structure, representation of particular interests,hidden political agenda and dependency on funding. Opportunities for NGOs include connection to the ground, ability to challenge dominant paradigms and think out of the box, as well as transnational activism and independence from diplomatic restrictions.(...)
The full report may be accessed here.
The EU-Asia Dialogue:
The "EU-Asia Dialogue"-project aims to enhance exchange and understanding between policy-makers, non-governmental organizations and researchers from Europe and Asia. Seven topics will be discussed and research periods taking a rather practical than theoretical approach will help to formulate policy-recommendations. The project was started in January 2012 and until December 2014 a number of conferences, policy dialogues and briefings will take place in various countries of both continents to disseminate the results of these research studies. Exchange shall be fostered not only between both regions but also the two key target groups – policy-makers and researchers.
The "EU-Asia Dialogue"-project is co-funded by the European Union and the Konrad-Adenauer-Stiftung (KAS) of Germany with funds originating from the German Ministry for Economic Cooperation an Development. All activities are implemented by the Konrad-Adenauer Foundation, the East Asian Institute of the National University of Singapore, the European Policy Centre in Brussels and the European Union Centre in Singapore.