DAAD IVAC - International Virtual Academic Collaboration
The collaboration between the Departments of Anthropology, University of Freiburg, and the Department of Anthropology, Gadjah Mada University in Yogyakarta, Indonesia, will be continued in the winter term 2020/2021.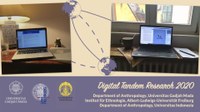 Supported by the German Academic Exchange Service (DAAD) in the funding line 'International Virtual Academic Collaboration (IVAC), students will have the opportunity to participate in a collaborative online tandem research seminar entitled 'Aging in Globalized Societies'. The seminar will be led by Sita Hidayah and Ingo Rohrer and particularly focusses on software-based approaches to joint qualitative research and data analysis.