NEW PUBLICATIONS | Prof. Dr. Judith Schlehe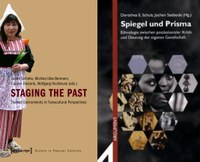 Schlehe, Judith (2010): Die Zukunft von Natur und Politik im chinesischen Jahr des Tigers; in: Schulz, Dorothea, Jochen Seebode (Hg.): Spiegel und Prisma. Ethnologie zwischen postkolonialer Politik und Deutung der eigenen Gesellschaft. Hamburg: Argument Verlag, S. 326-340.
Schlehe, Judith/Michiko Uike-Bormann (2010): Staging the Past in Cultural Theme Parks: Representations of 'Self' and 'Other' in Asia and Europe; in: Schlehe, Judith et.al. (eds.): Staging the Past. Themed Environments in Transcultural Perspectives. Bielefeld: Transkript, S. 57-91.