Christl Kessler and Stefan Rother quoted in GMA News: "OAV amendments sought to woo overseas voters"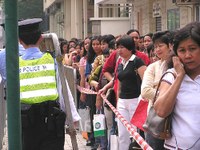 GMA News
10/7/2009 6:51pm
OAV amendments sought to woo overseas voters
by JOSEPH HOLANDES UBALDE, GMANews.TV
MANILA, Philippines - To entice more participants in the absentee voting exercise, lawmakers are calling for amendments to the law on overseas voting, including bringing registration centers closer to overseas Filipinos.
Senate Minority Leader Aquilino Pimentel Jr. and Sen. Manuel Villar Jr. want to encourage more Filipinos abroad by putting up mobile registration centers in areas with huge concentration of overseas Filipino workers (OFWs) and conducting pre-departure registration in international airports and seaports in the country.
Villar is a known OFW advocate and has come out with a series of public advertisements(...)
Full article can be accessed here:
http://www.gmanetwork.com/news/story/167106/pinoyabroad/oav-amendments-sought-to-woo-overseas-voters
Further reference to the article:
http://mabuhaycity.com/forums/pinoys-abroad/8879-oav-amendments-sought-woo-overseas-voters.html
©  2009 GMA Network Inc.