Badische Zeitung | Quote by Markus Mietzner on the election of Indonesian President Jokowi
Markus Mietzner comments on the conditions of Jokowi's recent election.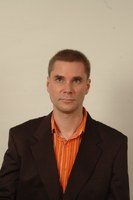 Die Arme eng an den Körper geschmiegt, hielt sich der 53-jährige Joko Widodo ein paar Tage vor der dritten Präsidentschaftswahl in der drittgrößten Demokratie der Welt an den Verhaltensknigge seiner Heimat Java. Zögerlich und verlegen schüttelte er die Hände der Indonesier, die Tuchfühlung mit dem Spitzenkandidaten der PDI-P suchten. Kaum zwei Stunden nach Schließung der Wahllokale war am Mittwoch von Zurückhaltung nichts mehr zu spüren. "Auf Basis der provisorischen Schnellzählungen haben wir gewonnen", verkündete Jokowi, wie ihn der Volksmund nennt. Danach entfielen rund 52 Prozent der Stimmen auf den früheren Möbelhändler aus der Stadt Solo in der Provinz Java.
Gekleidet in sein Markenzeichen, ein schlichtes, kleinkariertes Hemd, hatte Jokowi als Gouverneur von Jakarta die selbstherrliche und langsame Verwaltung der Hauptstadt aufgemischt. Am Mittwoch sorgte sein Triumph für chaotische Verkehrsstaus rund um Jakartas zentralen Platz Bundaran. Hunderte Anhänger des zukünftigen Präsidenten im Land mit den weltweit meisten Muslimen trafen sich dort zur Jubelfeier. Nach wochenlanger, klarer Führung hatte Jokowi kurz vor der Wahl doch noch um seinen Sieg zittern müssen. Nun zieht erstmals seit dem Sturz des Diktators Suharto im Jahr 1998, der das Land mehr als 30 Jahre lang regiert hatte, ein Politiker ohne persönliche Verbindungen zum Regime in den Präsidentenpalast Monas.
"Jokowi verzichtete auf Attacken und stellte die Möglichkeiten der Zukunft in den Mittelpunkt", begründet der Indonesienspezialist Marcus Mietzner den Sieg des hageren Politikers. Die drohende Niederlage wendete Jokowi bei der letzten Fernsehdebatte ab. "Er war besser vorbereitet und hatte klarere Positionen", glaubt Tommy Suryopratomo, Chefredakteur des Fernsehsender Metro TV. Den Bruch mit der Vergangenheit, den Jokowi verkörpert, versuchte sein Gegenspieler Prabowo Subianto, ein früherer Schwiegersohn Suhartos und Ex-Kommandeur der berüchtigten Sondereinheit Kopassus, unter Einsatz von Rufschädigung, Bündnissen mit islamistischen Gruppen sowie Allianzen mit mächtigen Unternehmern aus dem Umfeld der früheren Suharto-Partei zu verhindern. Noch am Mittwoch beharrte er darauf, selbst die Mehrheit erzielt zu haben.
Read the full article at http://www.badische-zeitung.de/kommentare-1/ein-bruch-mit-der-vergangenheit--87274127.html
© Badische Zeitung 2014