COLLOQUIUM | Prof. Michael Ewing-Chow: "A Theory of ASEAN Integration" (27 April 2012, 11h - 12.30h, room 1021)
This colloquium will be presented by Michael Ewing-Chow, Associate Professor and WTO Chair in the Faculty of Law at the National University of Singapore.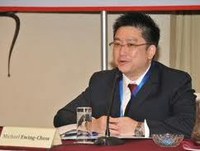 The following questions are proposed to be discussed:
1. Is ASEAN really about Integration?
2. Is ASEAN really about ASEAN or can we understand it as part of a larger Asian phenomenon?
3. What then is the Theory of ASEAN Integration?
From the time of its establishment in 1967 under the Bangkok Declaration, the Association of Southeast Asian Nations (ASEAN) has relied more on diplomacy rather than law. Political relations within the region were managed by consultation and consensus and declaratory statements, while treaties denoting binding legal obligations – particularly with effective dispute settlement mechanisms – were few. The founders of ASEAN responded to the existing regional distrust created by some prior military confrontations by focusing on confidence building activities rather any concrete integration efforts. The discourse of ASEAN at that time, in contrast to the European experience, may in hindsight be said to be marked by the absence of any grand ambition or deep theory.
However, upon the 40th anniversary of this regional organisation in 2007, the 10 ASEAN member states signed the ASEAN Charter stating that: "We, the Peoples of the Member States of the Association of South East Asian Nations … [h]ereby decide to establish, through this Charter, the legal and institutional framework for ASEAN." For the first time in its history of over four decades, the Legal and the Institutional were brought to the forefront of ASEAN discourse. There is now a clearly expressed intention to work towards further integration and a self-understanding that legal and institutional structures will have to be developed to support the integration efforts.
Nevertheless, there remains a perhaps Asian reticence to express a vision similar in semiotic value to the Schuman Declaration in Europe. Instead, Blueprints for each of the three ASEAN Communities – the Political-Security Community, Economic Community and Socio-Cultural Community – have been formulated and adopted as well as numerous new treaties and protocols often with detailed technical obligations and dispute settlement procedures.
When: 27 Apr. (Friday), 11:00 AM to 12:30 PM
Where: KGI room 1021